Mô tả
SMSL AD18 V3.1
FDA Amplifier NFC TAS5342A 2x40W Subwoofer Output 8Ω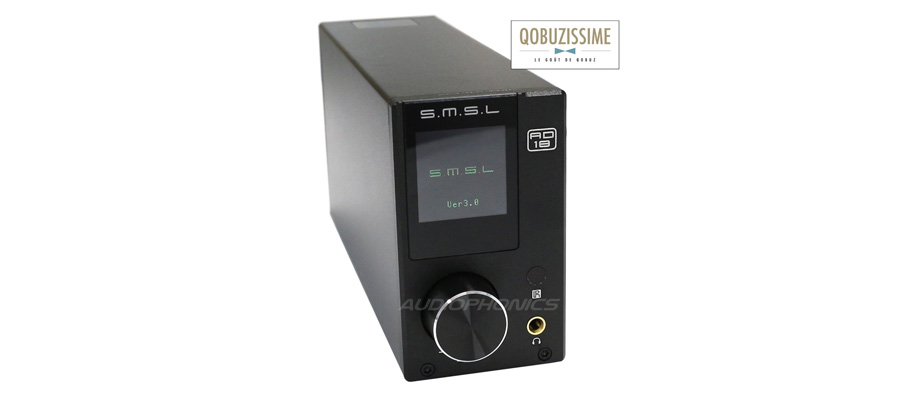 The SMSL AD18 comes back to us in V3 version with this time an integrated Subwoofer output, and the possibility to adjust the brightness of the screen (DIMMER). The Subwoofer output is accessible via the 3.5mm jack port at the base for Coaxial / Optical input. As shown in the diagram below: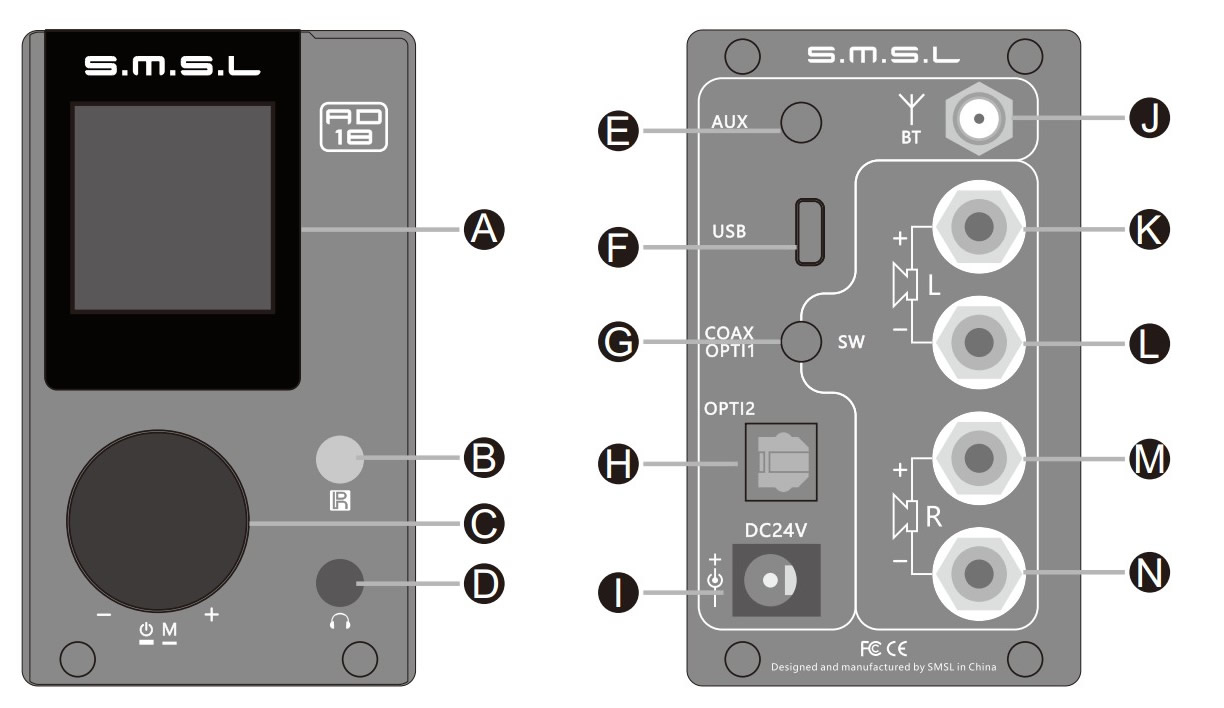 Despite the fact that it is the same connector, you can use the Coax / OPTI1 input and the Subwoofer output simultaneously with a jack to RCA cable (mixed or female) like this one:


You can use this adapter to use coaxial and subwoofer : 3.5mm stereo male to 2x RCA female jack adapter cable 15cm.
This adapter is also compatible: 3.5mm stereo male to RCA female stereo jack adapter.
You can also use this adapter if you need only coaxial intput :
Jack to RCA adapter Coaxial AD18
SMSL AD18 is part of the new generation of FDA Full Digital Amplifier. It uses the high technology TAS5508C and TAS5342 chips using Texas Instrument's Digital Pure Path process. With a compact design it will bring a high resolution for the music lover who wants to combine compactness and high audio quality.
This amplifier has the characteristic of being a "Full Digital" i. e. that the S/PDIF or USB signal is converted to I2s and then directly amplified by the torque TAS5508C and TAS5342. The path of the digital signal thus simplified allows an astonishing quality of restitution of this category of apparatus.
The Bluetooth BT4.2 NFC Bluetooth format input allows you to take advantage of the qualities of the SMSL AD18 by offering better quality wireless playback for compatible iPad, iPhone, iOS, tablets and Android smartphones. (maximum distances 10m in close surroundings without obstacles).
This all-in-one amplifier is also equipped with a digital equalizer with many functions (bass tuning, treble, etc.).
It will be the ideal companion for any digital wireless or cordless source. Its ergonomics and compactness are not inconsiderable assets, to which is added its versatility thanks to its 1.44 colour TFT display, which precisely indicates each function.
To connect a coaxial cable to the AD18's Coaxial input in 3.5mm Jack format, you can use this compatible adapter: 3.5mm male mono to female RCA jack adapter.
Warning: AAA battery for remote control not included. Available here: AAA GP Battery.
SMSL test AD18 by Qobuz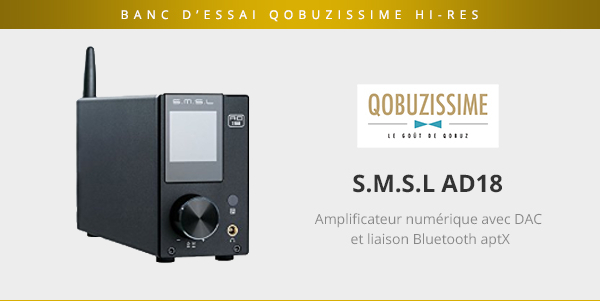 SMSL AD18 SMSL test by Qobuz: QOBUZISSIME!
Technical characteristics
SPECIFICATIONS
SPDIF Interface
CS8422
USB Interface
VT1620A (16bit 44.1kHz-192kHz, 24bit 44.1kHz-96kHz)
Display
Color Screen TFT 1.44″
4.2 NFC Bluetooth Interface
CSR A64215 A11u
FDA Controller
TAS5508C
Amplifier module
TAS5342A
Amplifier power
2 x 70W at 4Ω (@THD 10% @24V)
2 x 40W at 8Ω (@THD 10% @24V)
Headphone amplifier chip
MAX97220A
Double Op-Amp
NE5532
THD
0.04%
Frequency response
18Hz – 22kHz
Digital equalizer
7 positions (correction +/- 8dB)
CONNECTORS
Digital inputs
S/PDIF Optical Toslink
Mini Coaxial Optical
Micro USB-B
Digital inputs
Jack 3.5mm Stéréo
Bluetooth
BT4.2 (SNR 90dB)
HP Outputs
Screw terminals, supports banana plugs 2.5mm
Subwoofer Output (SW)
Jack 3.5mm "COAX / OPTI1" (unfiltered output)
Headphone output
At 32Ω 53mW @ THD 0.04%
GENERAL
Power supply
Jack DC 24V 5A
(Max 24V)
Dimensions
172 x 51 x 85mm
Weight
1485g
Accessories
Micro USB Cable
Power supply
Bluetooth Antenna
User manual
Remote
Remote control
If remote controle does not respond, press the "A" key.